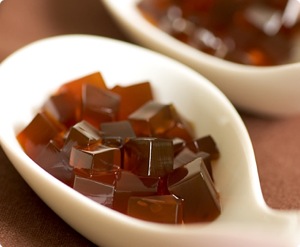 It's coffee cubes! Espresso and sugar suspended in gelatin. Why? Well, why not, I suppose. Probably tastes pretty good, and could make an interesting holiday treat. You can find the recipe over at DeliciousDays.com, or read the rest of this entry.

==================================================
Cubed Coffee (serves 4-6)
Recipe source: essen & trinken, adapted
Required time: prep. 15 min., chilling: a min. of 6h, better over night
.
Ingredients for the espresso jello:
120ml espresso (high quality with low acidity, e.g. Cherry Plantation A)
8 sheets of gelatine
450ml water
60g brown sugar
.
Ingredients for the coconut sauce:
125 ml heavy cream
125 ml coconut milk
3 egg yolk
40 g sugar
==================================================
1 For the espresso jello, soak the gelatine sheets in cold water for 10 minutes. Add water and brown sugar to a pot and bring to a boil. Remove when sugar is dissolved, then add the espresso and the well squeezed gelatine.
2 Choose a pan with proper proportions: for instance if you'd like to make larger cubes it may have to be a smaller one, with higher rims. The one I used was 16×16cm (6×6inch). Foil-line the pan; once firm, you can lift the foil right out and cut the jello cleanly. Chill for at least 6 hours, or better over night.
3 For the coconut sauce, first heat up heavy cream and coconut milk. In a seperate bowl, combine egg yolk and sugar and beat until the mass becomes creamy and pale in color. Now slowly add the warm milk to the mix, while stirring until well blended. Return the mass back to the pot and constantly turn and stir at medium heat (it should not boil!) until the mix has further thickened.
4 Strain the sauce through a sieve and serve with the espresso cubes.